At the end of our kitchen is a space where our high ceiling drops down to a lower height where the larder or coal store originally was. This means we have quite a high bulkhead in the difference between the ceiling heights.
I have been looking at a way of using this space (for plants, of course). I had a beautiful hoya australis as a birthday present that I would like to have vining along the wall, but I am struggling to find any large enough wall planters or brackets. There isn't really enough height for it to hang from the ceiling, plus lath and plaster ceiling + hanging plants is never a good idea.
Adam suggested putting a shelf up for it to sit on… which then got me thinking we could put a long, high plant shelf up and have lots of plants up there 😉
High shelves are a great way to store items, display plants, books or decorative pieces without taking up wall space that commonly used items may need.
While the shelf we would be putting up would primarily be a plant shelf, ceiling shelves are a great way to gain extra storage space and add interest to a room. Here are some of the ways high shelves can be used to add space and create interest in a room.
A simple pine shelf runs around the seating area of this colourful room, providing valuable storage space for books and trinkets while leaving the wall space free for wall art.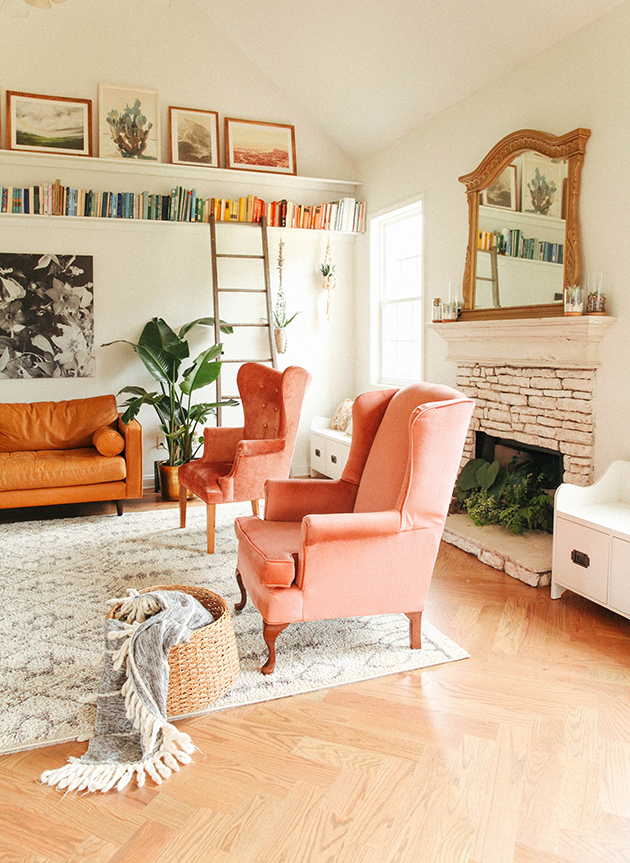 In Honor of Design made great use of their vaulted ceilings by installing not one but two high shelves. The lower shelf, accessible by an antique ladder, holds books while a higher picture ledge is perfect for displaying artwork.
You can never have too much storage space for plants, as shown in this picture from Messy by Design. The use of trailing plants and cute hangers makes this desk area feel less workspace and more like an urban jungle.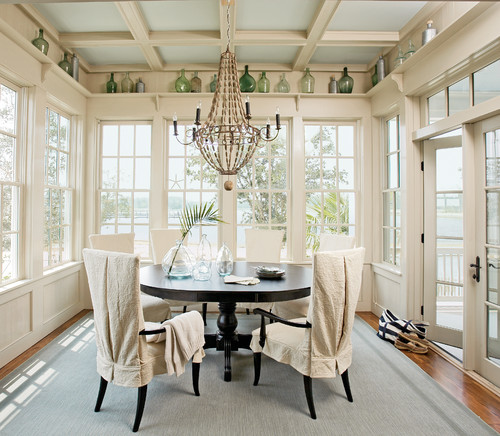 This gorgeous dining area has windows that are practically floor to ceiling, so the clever use of a high, narrow shelf above them provides the perfect spot to display a collection of sea-toned glass bottles.
High shelves can be great for providing extra storage, especially in small spaces like bathrooms. In this design a set of baskets in the same natural tone as the shelf provides much-needed storage, while keeping the space tidy and uncluttered (source unknown).
High shelves don't have to be used alone. The high shelf in this kitchen runs over the top of a quirky porthole window. Used for less frequently used items, it ties together the matching lower shelves which are either side of the window.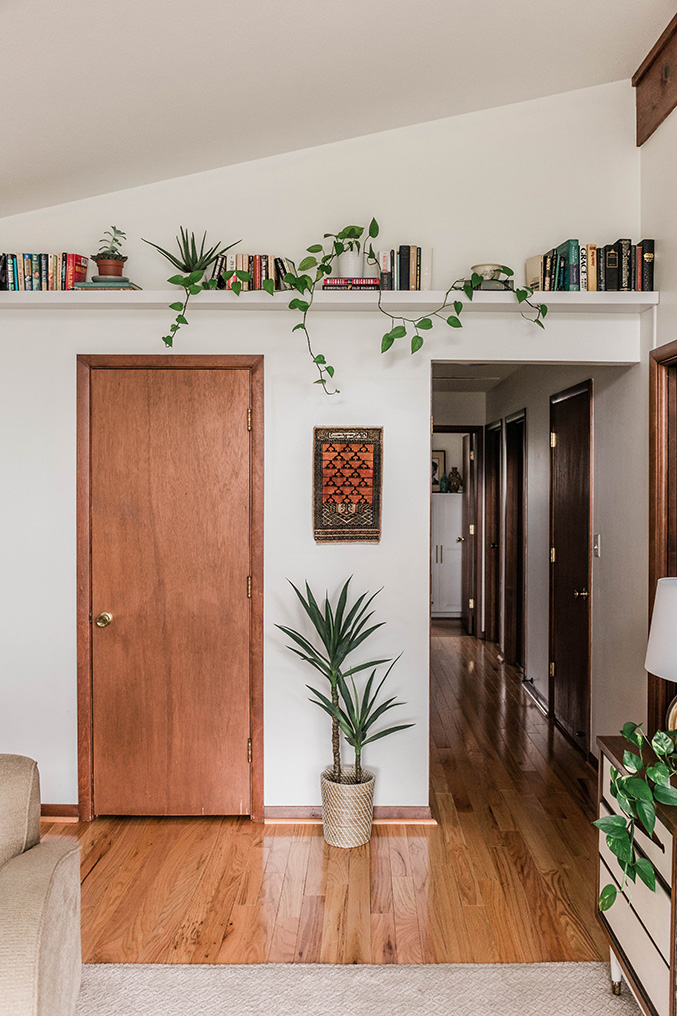 This simple white floating shelf makes the perfect book storage space. By keeping the wood the same colour as the wall it avoids making the area look busy or cluttered.
A built-in high shelf ledge in Hartley Home's living room provides the perfect spot for displaying a collection of vases and plants. Drought tolerant plants, like snake plants and ZZ plants, means less time climbing up and down to water them.
One more high plant shelf. The wood carries in this kitchen on the natural feel from the rest of the room and is the perfect spot for housing trailing plants like pothos and philodendron.
So, those are my inspiration pictures. Now I just need to figure how what would look best in our space! At the moment I am leaning towards a natural wood shelf with metal brackets that loop underneath the shelf and are fixed into the wall above it (I'm sure there's a proper name for them!) which means the shelf can be kept lower to the bottom of the bulkhead.